Why invest in language lessons when free mobile apps can make you a fluent English speaker?
Learning a new language is a rewarding process that requires a certain amount of seriousness. Whatever your reason for wanting to learn English, whether for a possible trip to London or Washington, via Dublin or Belfast, or for your personal culture, much more effective and less expensive means than traditional language classes exist. As long as you are comfortable with smartphones and tablets, totally free applications will make it easier for you to learn the language of Shakespeare.
Working both on Android and iOS devices, here is our ranking of the 11 best apps for learning English from home and at your own pace!
1. Babbel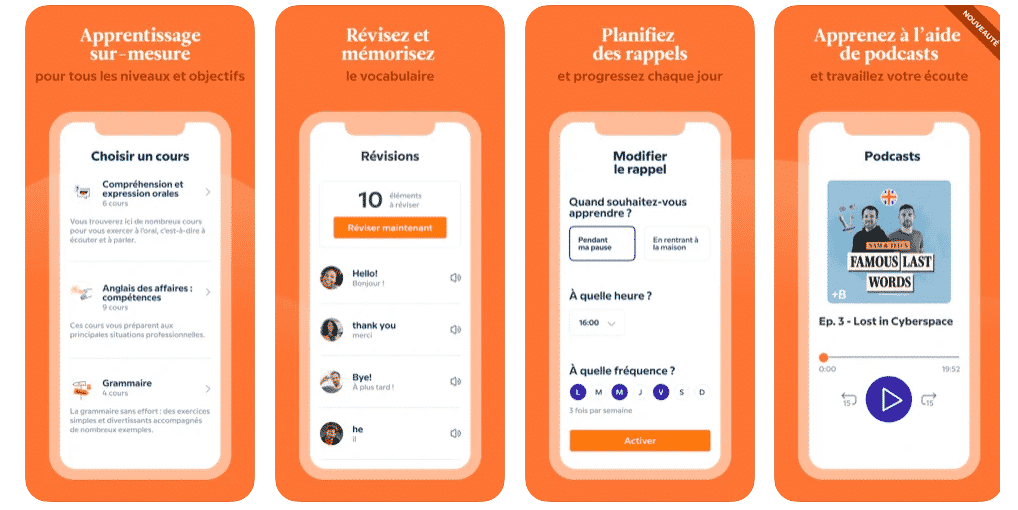 Babbel was created in 2007, and the application allows you to learn English as well as about fifteen other languages ​​online and has established itself as one of the leaders in this field!
Its English version offers to train you in British, American, Irish, Canadian, and even Australian or New Zealand English. All in transparency.
Equipped with a fun interface, Babbel is gaining notoriety year after year and offers two training modules for learning: vocabulary and tools. Whether you have a basic or advanced level in English, Babbel's mission is to make you a perfect bilingual. To do this, the application uses interactive activities articulated around oral and written exercises and a very simple method that recalls the translator of yesteryear: a word in French and its translation into English.
Only downside: although very complete, this Babbel application is not free. You will have to pay some €5 per month if you take the annual subscription or €7.5 per month if you take the 6-month subscription.
2. MosaLingua English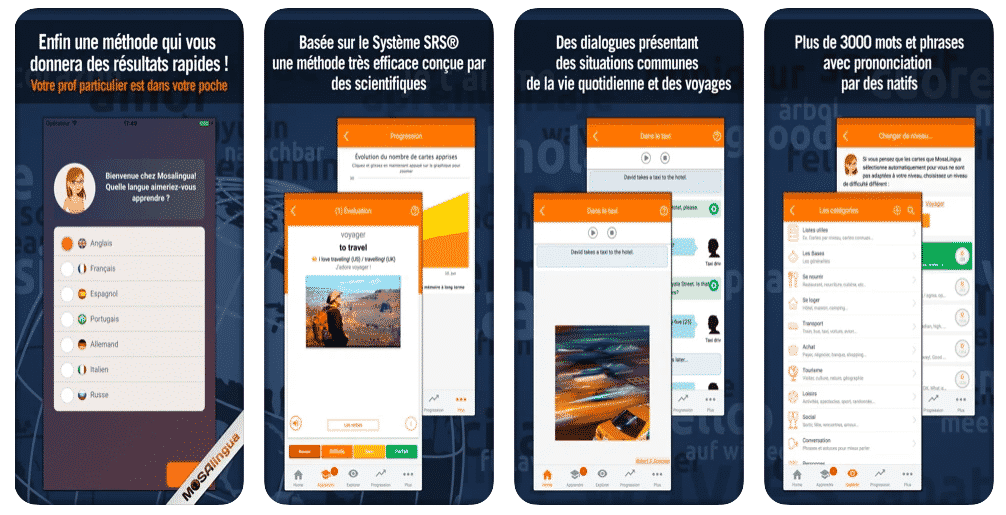 MosaLingua is a juggernaut of English learning apps. Indeed, this small multi-platform application provides lessons according to a method that has proven itself at the scientific level, spaced with repetition. Indeed, the application's mission is to help you memorize words by using vocabulary exercises.
To do this, the application uses some 3000 cards with words and key phrases, which will be repeated to you unexpectedly as you progress through the levels, to help you memorize as many words as possible.
3. Skyeng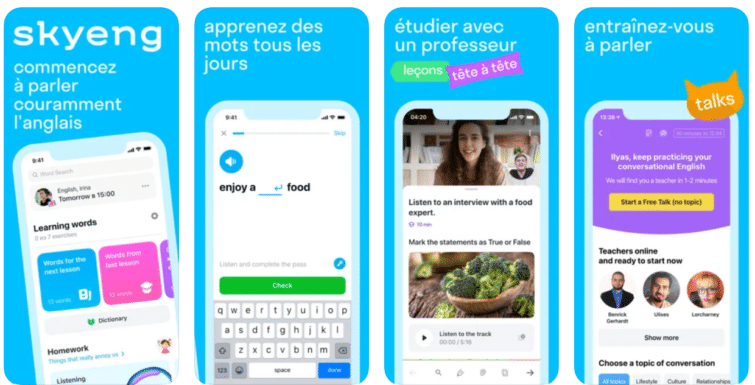 A community of 110,000 students around the world, no less than 11,000 qualified English teachers and up to 115 courses: Skyeng has everything of a great online English academy. With its system based on artificial intelligence, the platform allows registrants to benefit from English lessons adapted to their objectives, with an innovative interactive approach!
Ultra flexible, Skyeng is available in a mobile version: expanding your vocabulary, practicing and boosting your skills becomes feasible anytime and anywhere for anyone who downloads the mobile app! On the price side, it depends on the formula chosen but to give you an idea, it starts from €21.90 for 4 lessons .
The icing on the cake: Skyeng also offers discussion clubs that allow you to exchange in English with learners from all over the world.
To test !
4. Gymglish
Gymglish is an app for learning English in a fun way. Fun classes that stimulate our cognitive functions. Also, the application offers several learning methods. Daily lessons, microlearning, adaptive learning, or humorous stories, everyone will find a method that suits them.
And the least we can say is that it works since Gymglish has an attendance rate of 80%. In addition, at the end of the training, you can be rewarded with a diploma certifying your progress. A pretty cake icing.
5. Mondly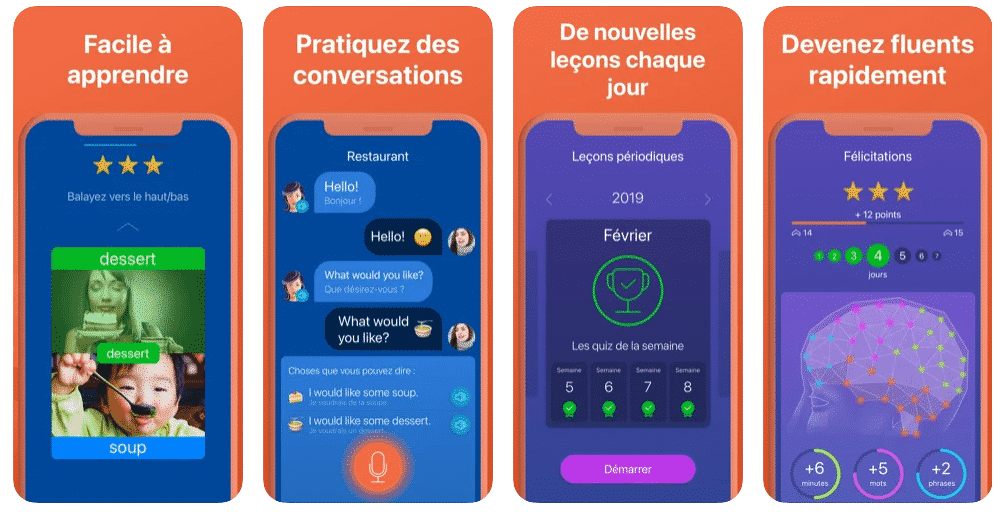 In a few years, Mondly has become one of the true reference applications for learning a new language! Designed in 2013, the application is already complete for 33 languages.
The real advantage of Mondly is that it perfectly combines Babbel's learning method with that of Duolingo, while presenting its own features! Here, you will therefore learn your written and oral comprehension skills, your vocabulary as well as your grammar.
In addition, you can choose the setting in which you want to learn English. Go on vacation, learn for work or simply improve your skills, the choice is yours! The real advantage of the application lies in its intuitive chatbot, which will guide you throughout your learning process.
Price level, you will have the choice between a subscription at €9.99 for one month, and €47.99 for one year. The application also offers many offers, throughout the year. Otherwise, you can also choose the "lifetime subscription" version, at €60 , so you never have to spend a penny again.
6. FluentU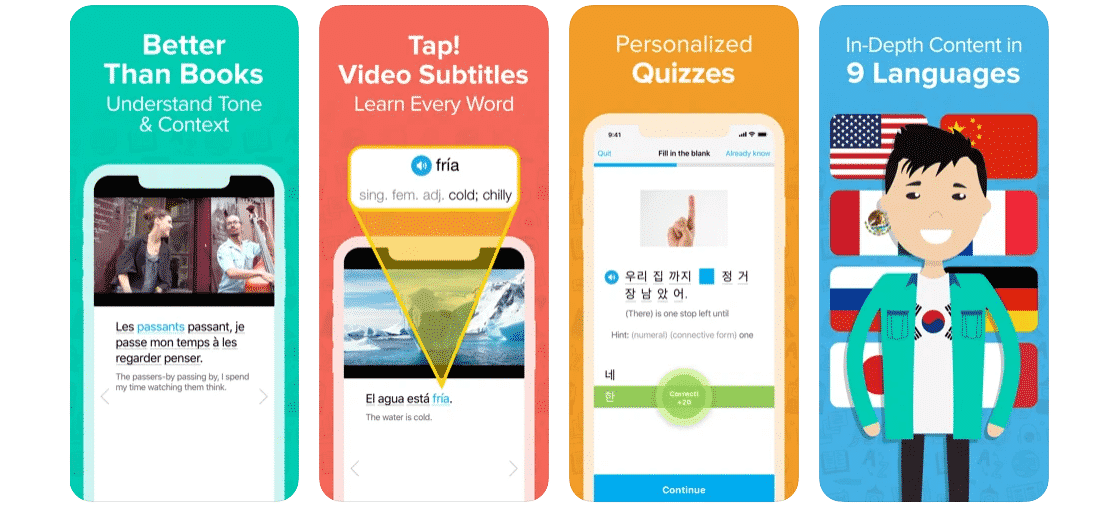 FluentU is the most up-to-date application in our ranking. Indeed, it breaks with learning codes by simply offering to learn English through podcasts and other digital information formats. It is therefore the most novel application in our ranking.
Several types of tools are offered within FluentU, ranging from videos with fairly vulgar subjects such as music videos, to more straightforward ones such as news and advertisements. This type of training overcomes one of the problems of language learning. Indeed, after days and days of learning, when you are put in a real situation, you rarely have blanks during the conversation phases.
To help you get there step by step, each video has a detailed script in English, so you know which term means this or that. Only downside, as in the air of its time the application has a cost, since only the first two weeks of use are free, you will then have to pay 15 € per month or 120 € per year to continue to use it. have access to it.
7. Busuu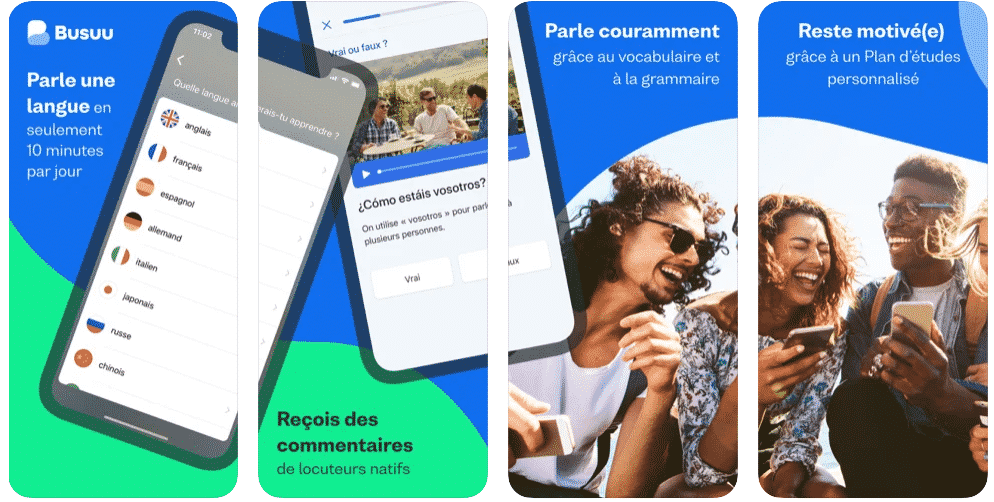 Busuu has also established itself in the landscape of language learning applications. Indeed, weighing only a few megabytes, this application offers lessons like at school, which will provide you with notions of vocabulary and grammar, dialogues in the format of stories to read or audio documents which will facilitate understanding. phonetics of words.
Here, 150 themes are covered in 3,000 unique sentences to read and listen to. Whether it's everyday life or more professional and serious subjects, Busuu is the ideal companion tool for Duolingo, even if intermediate learners can use it to perfect their knowledge.
The downside happens to be a little disappointing… First free for the first lessons, the application then becomes chargeable! On the other hand, the application is quite economical since you will only have to count 34.99 € per year, for the premium version!
For the premium plus version, you will have to shell out around €6.50 per month. But don't worry, the application often offers tempting offers…
8. Memrise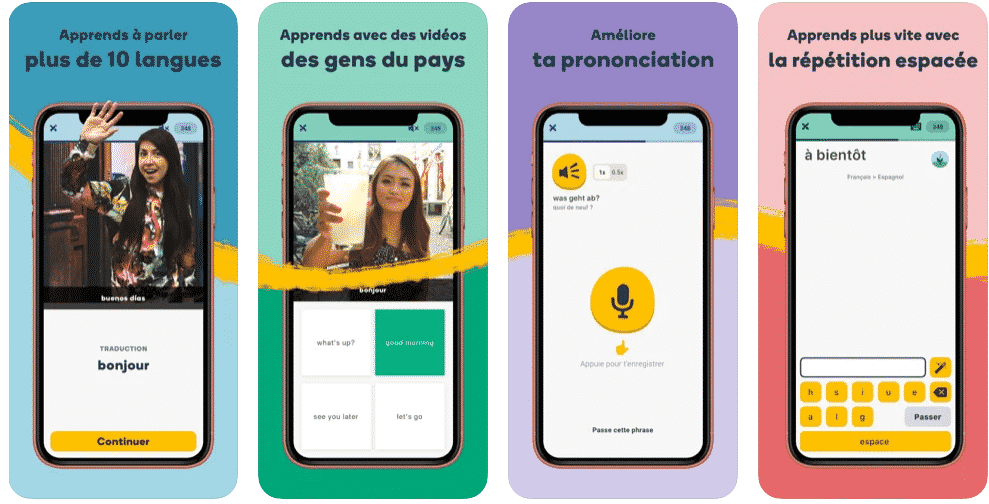 Summer is soon coming to an end, and the holidays are an opportunity to travel, visit the country, learn new languages ​​to make new friends and acquaintances. Memrise is an application that will help you learn English with ease. Indeed, Memrise is a learning tool based on the use of vocabulary cards that you will need to memorize little by repeating them at certain time intervals.
These maps are created and enriched by the user community. If you want to take your training to the next level, a range of paid subscriptions are also available.
A basic version is free. For advanced use, three monthly ( $8.99 ), quarterly ( $18.99 ), and annual ( $45.99 ) subscriptions are provided.
9. Duolingo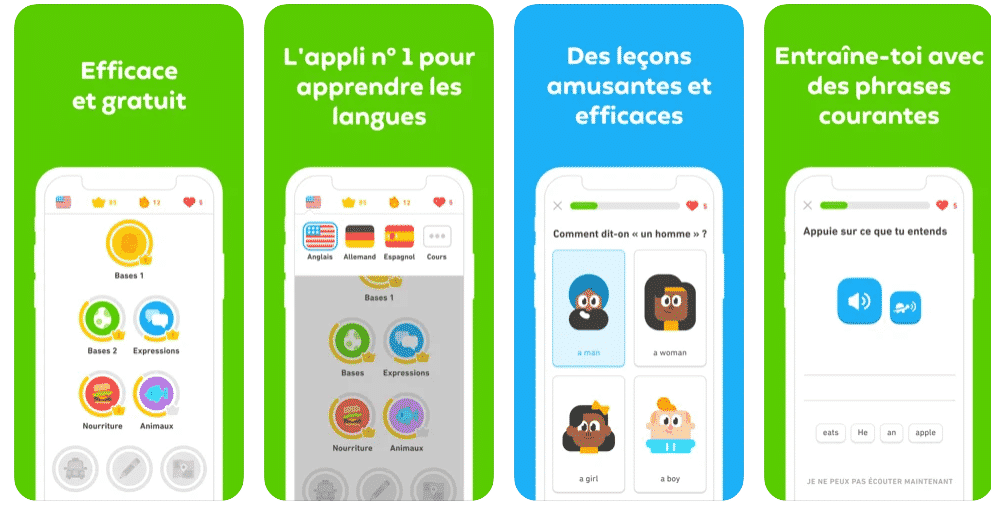 Duolingo is an essential application in the world of language learning. Whether it's English or another of your favorite languages, Duolingo is the Swiss army knife of language learning. This application is by default in French once installed on your smartphone and uses fun little games to teach you the language of your choice, which in this case is English. To do this, you will have the opportunity to improve your vocabulary, conjugation and grammar, punctuation, and listening comprehension.
Well structured, learning evolves gradually over the missions that will be assigned to you in the application, the level of difficulty increasing proportionally. This method will make it easier for you to understand the most difficult terms of Shakespeare's language in a short time.
Completely free (no in-app purchases), Duolingo also has a backup tool that will make learning on various media easy. In fact, you can start an exercise on your tablet and complete it on your smartphone, regardless of the operating system embedded in the terminal.
10. Tandem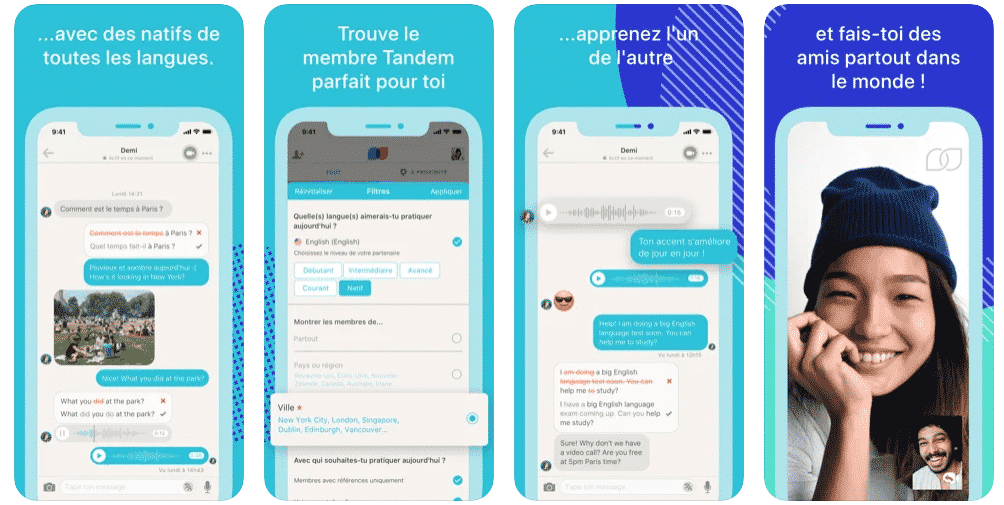 Here is an application very different from all those you know until today! Here, you fill in the languages ​​you already know, then those you want to learn. Then you indicate some of your centers of interest and topics of discussion that you like to discuss on a daily basis.
Finally, Tandem will offer you profiles of people who want to learn your language, and who master the one you want to know. The advantage here is that you can chat with people from all over the world, and thus discuss your cultural differences.
Completely free, Tandem is a real opportunity to learn a language while (virtually) meeting new people. You will therefore be both students and teachers, all in a studious and relaxed atmosphere.
11. LearnEnglish Grammar UK Edition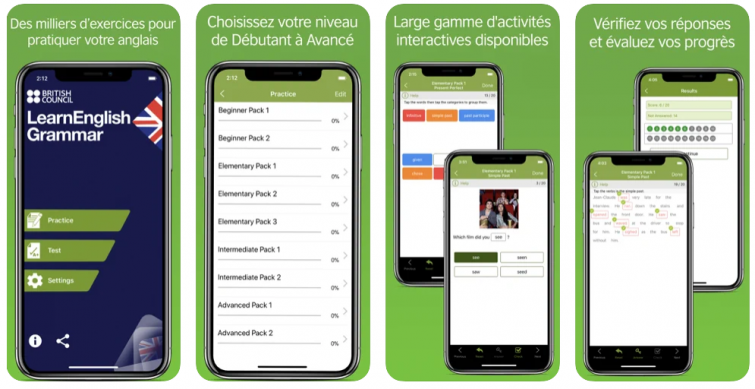 LearnEnglish Grammar UK Edition is the flagship application launched by the British Council to serve as a digital gateway to the popularization of language learning tools from our neighbor across the Channel. Indeed, also totally free, this application offers learning according to a rather unique method.
Operating in level packs, learning is provided in the form of exercises, comprising questions divided into 25 topics such as "Simple past", "Question tags" and "Prepositions". Each pack contains 600 questions, there are more than 1,000 questions to be answered to see more clearly about the daily use of the English language.